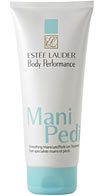 very nice

This is a very nice product for both hands and feet! It smooths, protects, really gives hands a nice look. Love it on my feet before I go to bed!

so so

I received this product as a free sample...for buying some EL cologne. I have terrible dry hands and feet...which do crack at times. This product did smell good..however I had to wash it off..after applying..as it had a stinging affect with my hands and feet. Definately good product..I think..but NOT for someone who has the Seriously dry/cracked skin.

Good Mani Treatment

I got this lotion free with my purchase a little while ago & even though I didn't pay for it, I think it's a good price. It's been great for my hands & pretty good for my feet. I'm sort of attached to my Neutrogena foot cream. I don't really love the scent of this lotion but it soaked into my skin very well & actually worked well for a massaage. I love EL products even if this isn't my fav.
Back
to top