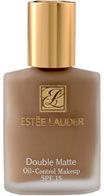 Didn't work for my skin

I have normal/oily skin with a tendency to be a little oily in the summer. I tried this foundation to see if it would work any better than my regular one. It didn't and in fact my skin felt like I was wearing makeup. I did not use any excessive amount when applying it. No matter how light a hand I used, I could still "feel" it on my skin. It felt more oily than usual. It did nothing to control oil...read more and worst of all it turned slightly orange when my natural skin oils came out. The shade I chose was a match on my skin in natural daylight, too. The ingredients used in the formulation must not like oil because any areas of shine were the areas that turned orange. Yuck. Luckily, I was able to return it. I'm not very impressed with Estee Lauder products as it is but I gave them another chance with this foundation. It failed. I cannot recommend this product.

My Favorite!!

Absolutely like it! Best one for oil control... doesn't come off on clothes. Leaves ur face looking nice and smooth all day!!

Best oil control foundation EVER!!!!

I have really oily skin and have been on an eternal search for a foundation that actually helps with oil...I've tried mattifying foundations, primers, sprays, moisturizers, powders, you name it...from both drugstore and higher priced brands. My skin would still be really shiny within a few hours, and I have a busy job and can't stop to use powder every few hours but then it would be so embarrassin...read moreg when I saw how shiny my nose and forehead were by lunchtime. Ugh. Finally I tried this one, and I am in love! If it was a man I'd marry it. Haha. I have mild rosacea so I love the coverage if provides in addition to the shine control. It surprisingly minimizes my pores too, even though I don't think they advertise that. I got so many compliments the first week I used it of how good I looked! And for $35, it was actually cheaper than most of the brands I had tried at Sephora. If you're looking for sheer coverage or a very light foundation, you may find it too heavy, but I absolutely love it. But it can't be beat for oil control. I'll be getting the Double Matte powder with the next gift with purchase program for touch ups, not that I'll need it a lot!