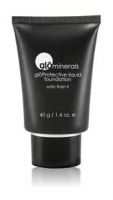 Amazing!

I have struggled for years to find a foundation that gives the right finish and coverage. This product is outstanding! Covers my hyperpigmentation, looks natural and beautiful in natural light, and leaves a dewy, young finish. I had never heard of this product line and I'm so glad the salesperson at Mission Beauty had me try this. Will definitely buy again!

My Favorite Mineral Makeup

I have never had much luck with mineral makeup, but this one has been great. I tried the Matte finish first, and didn't like it much, but the Satin is great. I've found that the best way to use it is with a damp sponge. That give a thinner coverage that allows me to layer for more if needed. I've been told that my skin looks great whenever I use it!

Could be better

What I liked about this product was that it did not cause any break outs and it covered any acne or acne scars I had. On the downside though it was very drying and settled into pores and creases making me look a lot older than I am (and I'm only 24)!! So if you have very very very oily skin this foundation would maybe be a good option but if your skin is dried out from acne products or if you have any wrinkles then choose a different product.