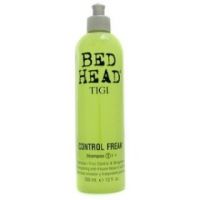 great!

funny name but works terrific! great scent

Only a three because

I have used many, many products to try to stop my hair from frizzing. So far, the best I have found are biosilk smoothing shampoo and products and of late I have found Rusk. Yes, Rusk. They have won over my heart for Frizz. You do not have to use but a drop and I mean a DROP for medium or just about medium hair. Too much and it is too much. I will be buying them in the future. The other p...read moreroducts I like are Freida's Frizz products. The conditioniner has worked well for me. But the BIG secret in fighting frizz is to use hot rollers after your hair is completely dry and I mean completley. Do not use the velcro ones. Set your hair and then use a good hairspray. I love Loreal professional. I forget the exact name but it last forever and you can only buy it in a salon. Do not comb or brush your hair out but run your fingers through it. Turns out beautiful. My hairdresser in Cary taught me that one. I am 58 and have had horrible hair. She fixed it for me after all these years!

It's aight

The shampoo I think is rad...smells good, does the job. I think the conditioner was my problem when my hair decided to go to static city every freaking day.
Back
to top