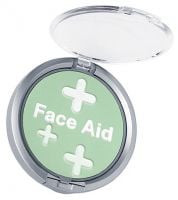 Not that oustanding but effective.

It works on my acne prone skin but as for the green, I haven't seen any red go away.I would have to cake this on. Overall its an ok product.

I love it

Ive been looking everywhere to buy it, where can i buy it...i love it, just what i need, pls tell me where can i purchase it

PF Rules!!!

I love PF, their makeup is the only one I put on my skin. I use any brand of lip product but PF is the only powder I use. I breakout a lot and PF doesn't clog my pores.
Back
to top