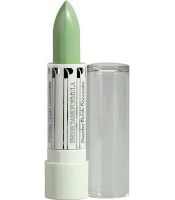 interesting idea

this is an interesting idea to use green to neutralize the red in skin but you have to use it with care. if you use too much you will see the green.

Felt Like Kermit the Frog

Physician's green concealer stick was recommended by my derm after an injection that left a big, bad bruise. I don't know what my derm was thinking, but the application left my bruise looking worse than it was before. It did not cover the bruise. I tried light, heavy, and medium application with a skin-colored concealer over the green. Nothing worked. You could still see the green. I felt like Kemit the Frog. Not that there's anything wrong with being a frog.

Interesting theory...

...A chartreuse stick that claims to neutralize redness. It would be great if it was as fabulous as it sounds. When I was in high-school this was a product that I swore by for covering my intensly hormone-induced breakouts, so when I recently went through a flare up I picked up another tube expecting the same results. But what I found was a product that covered redness, yes, but left an odd gree...read morenish-grey smear or splotch in its wake; no matter how much you blended it in. So I guess the choice is really up to the consumer. Which is worse in your opinion? An ugly, inflamed-looking redness? Or an odd, slightly sickly-looking greenish grey?
Back
to top