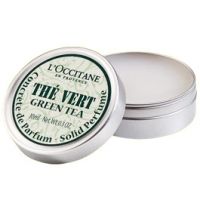 L'Occitane Green Tea Solid Perfume
As low as
Green Tea Solid Perfume

This is not one of their best solid perfumes. It smells good, but simply does not last. I have the Rose solid perfume, and it really lasts. So, I don't know what the problem is with this one. Very disappointing.

Weakly scented, but pretty

Compared to the spray perfumes put out by L'Occitane this solid isn't that great. The green tea is very faint and I had to rub a lot of the product on to get any scent from it at all. It also did not last very long. Still it is a nice scent and it is much cheaper than the sprays. It is unusual and unisex. You can also carry it in your pocket or on a plane. I wouldn't mind replacing my heavil...read morey scented lotion with this for travel (sometimes if someone has body odor and you're stuck on a bus/train/car with them the only thing you can do is wipe a smelly lotion under your nose), but I won't replace my regular perfumes with this. It is also nice if you want to concentrate the scent on a specific area of the body.
Back
to top