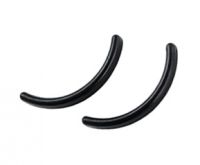 Nice

Nice and convenienct replacement lash curler refills. Easy to pop in and out.

Just right

These refill pads are not too soft, not too hard, but just right. The maybelline curlers are the only lash curler that don't pinch my skin of my lids. I think the curvature is not as curved as other brands. I highly recommend the maybelline curlers if you have small eyes or asian eyes that are difficult to curl. It's also one of the most affordable curlers.

Maybelline Lash Curler

I love it when my lashes are curled. It opens up the eye and looks hot!
Back
to top