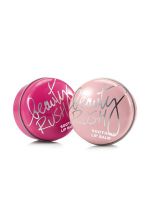 Love the cooling sensation....

It has just the right amount of color and shine. I also love the cooling minty sensation. I wish they have this in a different packaging so I wouldn't have to use my finger all the time.

I love this

I'm super picky about lip balms, but this one I wear every night before bed. It comes in a generous tin can, has a super nice feel to it (not waxy at all), just right thickness (not too hard nor soft), glides smoothly onto lips and never feels sticky. It has slight minty smell and cooling effect on lips, but it's soothing and comfortable because they didn't over do it like other brands. I'm going to go back and stock up on this.

love this stuff

First off, I love the cooling mint in this. It does a great job of giving my lips moisture and feels great on chapped lips. Not only do I have this in clear, but I also have this in two of the colors. The colors are sheer and shimmery.
Back
to top