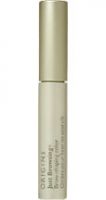 would like more color range

a wand applied tinted brow gel that it took me a while to warm up to, but now I love it. It goes on so subtly that at first I was afraid that I wasn't really getting any product, but now that I've thinned my brows a bit, i really see the difference. It comes in only two shades, a soft blonde and a soft brown, but the brown works well on me. Hopefully they'll expand their color lines in the future,...read more because I've always been fond of Origins products. I do like that it's almost impossible to overdo it and get Joan Crawford brows. It goes on lightly enough that you don't have to worry about a clumpy look as well.

stuck in s rutt

I'm wondering if once you put it on will it look too waxxy. I have black eyebrows and i have a hard time finding the right product for my eyebrows,lately i have been using an eyebrow pencil and it;s working,but i'm looking for something better any suggestions?

Pretty Darn good

I love this stuff, but it was gone for a while. I have very thick black brows and I can never find the right brow gel. This stuff is pretty great.