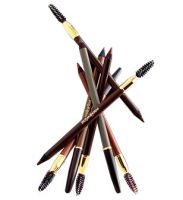 Yves Saint Laurent Beauty DESSIN DES SOURCILS Eyebrow Pencil
As low as
Perfect Color Match

This has a brush on opposite end which makes it easy & convenient to blend in the color. I'm light skin asian with dark hair & #4 is very natural on me even though the pencil looks like a taupe color. It darkens my brows slightly but still looks realistic, not obvious. It's easy to apply and hard to overdo, no harsh looking brows.

A great pencil

Convenient and great colors. Too bad my eyebrows don't do well with pencil. I would love this if they did, though! And the price is steep for this, but if my brows looked good with pencil this would definitely be the one I would use. Long lasting and high quality!

Great, natural-looking brows

This eyebrow pencil is great. I am a medium, olive-skinned girl with dark hair, so I use #2 dark brown. It's easy to draw light strokes on and the brush at the end is very convenient to blend it out and make it look natural. It's a bit more on the expensive side but it lasts a loooong time and many sharpenings. I love it and use it everyday, and definitely wouldn't be without it!