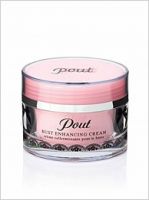 Pout Bustier Bust Enhancing Cream
As low as
Lovely luxury

I don't know how much this cream actually enhances the bust. But I've actually never found a bust cream that really enhances. What this cream does do is keep your bustline,decollete and "natural bra" firm and keeps your skin super soft. It's a sumptuous cream that's a pleasure to apply. It's so soft and silky feeling... and it smells like heaven. Well, actually it smells like roses but i...read moret's heavenly. I like the soft shimmer that's imparted by it. The packaging is very nice.... like a pink and black lace bustier. It's a very good deal for the price. I've been using different bust creams since high school. The cream I used for years before this was twice the price. I've switched to Pout now. Unfortunately, I believe that Pout (a U. K. based co.) no longer sells in theU. S .. So I stocked up on every jar I could find. If you can find it give it a try. I highly recommend this wonderful skin cream that leaves you soft, silky and sexy felling. If you find some...buy it! And then post here as to where I can find some more!

didn't really do anything

This cream is really rich and has a nice scent and texture, but it didn't really do anything to enhance my bust...the sparkles enhanced it a bit, I guess, but it didn't do anything else.
Back
to top