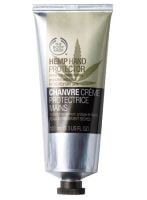 A Healing Delight!

Hemp has healed my hands when I've let them "go" by overwashing, being out in the cold without protection, and using chemicals. It's wondrous!

The Body Shop Hemp Hand Protector

I am really tough on my hands. I don't wear gloves when I do my domestic chores or yard work, but you would never know it. I use The Body Shop Hemp Hand Protector all the time, and it not only protects my hands and nails, it keeps them looking nice and very well moisturised. I like the fragrance, it isn't really floral or foody, just a nice green type of fragrance. I don't have to use a lot of...read more product either. A little goes a long way. I also like that the packaging is recycleable, that helps the enviornment as well as keeping my hands and nails looking and feeling great.

Great Moisture and Relief Inside Bad Packaging

I had my doubts about this. I wasn't particularly impressed with The Body Shop in the past, and $10 for one ounce seemed pretty overpriced. But I had a half-off coupon in my hand, cash burning a hole in my pocket, and drier than tumbleweeds hands, so I went ahead and purchased this little green tube. And honestly, I am glad I have. I admit I still think it's overpriced, and the packaging is pretty...read more bad, especially with how easily it dents, and how much excess product comes rushing out if I'm not careful. However, the product itself is pretty close to perfect. The smell is very earthy, like a forest after the rain. It's perfectly subtle, light, and suitable and pleasing to both men and women (and cats, I have observed). It's a tad bitter, so that might be off-putting to some people, but it's barely noticeable. The hand cream is very rich, thick, and moisturizing. The moisture lasts all day, unlike some creams that feel like they were never there after one hand washing. However, this cream isn't greasy. It feels light on my hands, spreads easily, and makes my skin smooth, silky, hydrated, and radiant. It doesn't sink in instantly, it will probably linger for about half and hour. But it's not greasy, like you can still type and do stuff, you'll just notice that it's there. Overall, I really like this hand cream because it's pretty darn close to perfect for my dry skin, disregarding the shoddy packaging. However, it is a little expensive, so I think I'll wait for a coupon, sale, discount, or promotion before I buy it again.
Back
to top