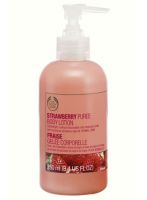 Review subject

The scent is amazing, but it didn't do much as a moisturizer.

Is this supposed to be moisturizing?

I got this as a sample with the spring 2008 bonus...pack..thing. The texture was nice, more similar to a gel than a lotion. The smell reminded me of these jello cups I ate as a kid. But it did not soothe my parched post-shower skin at all and shortly after applying it, it was like I never put any on in the first place.

Bleh

It smells good, but after a while starts to smell like... Chemicals. Smells more like candynthan actual strawberries, but its still good. And its kinda watery and gel like, which is weird. Doesnt moisturize very well either. Its an ok lotion at best. Best thing aout this is the smell.
Back
to top