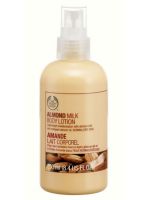 Nice Scent, but a bit Runny

I love the body shop products, but this one is not one of my favorites. It is a nice option for those who need a lighter weight lotion, but I find the product to be too runny. Be sure to clean the sprayer or it will get gunky and clogged. I have found that the scent of this product is different from the other almond products including the almond body butter so be sure to try the scent before purchase.

Lightweight milk body lotion with nice fragrance

I love its smell. The spray-on feature is a plus for me, I find it very convenient to use, like a suncream spray. Its light texture leaves the skin soft and not oily. There are also other nice products in this almond range from The Body Shop.

Great for after a shave

This spray on lotion has a wonderful smell, similar to almond cherry. Very sweet! The consistancy is very light and a little oily so it's great to spray on after shaving your legs or exfoliating.
Back
to top