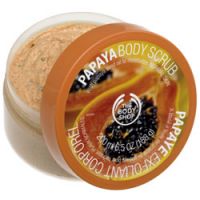 The Body Shop Papaya Body Scrub
As low as
Invigorating To Beautifying

Creamy and lush, this body scrub is nothing short of spectacular, not only is papaya great for the skin but the exfoliation process unravels gorgeous glowing skin that is soft and supple but also radiant. And you may find that your skin stays soft longer than you'd expect because I certainly did. I use this with the coordinating body butter and it is absolutely fantastic to have these around bec...read moreause they make my skin so even, so touchable, and so healthy. Scrubbing dead cells off the body is essential because without so, dead skin sits there and basically looks dry or dreadful. Some people were born with perfect skin thanks to their genes but thanks to this, I can slip my way into that crowd cheating with this jar. The scrubbers aren't so rough that they're abrasive, it's actually massaging to the body and isn't overdrying because some formulations of exfoliants have been to me but this was very giving and generous to feed my skin what it precisely needed. The price tag for the jar though is a lot of pennies into that piggy bank but I don't exfoliate everyday anyway because doing so can overdry and damage skin as all exfoliants would, once a week is recommended so the jar should last a couple or few months. I've actually spent twice the amount for another body exfoliant that hardly did anything for me at all so I was glad to have found this. And the best part? The subtle tropical scent that fills the air.

Wonderful scrub

I actually like Passion Fruit scrub better than this one. However, the associates there suggested me to try out this one since I want a scrub that's grittier. It smells wonderful, and definitely scrubs off my dead skin. Because the day after, my body was more glowy and had no dark spots. I love it more than Origins' scrubs!
Back
to top