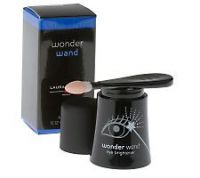 Great for doe-eyes!

I'm a fan of the twinkling doe-eyed look and I'm loving Laura Geller's Wonder Wand for that purpose. For subtle highlight on the brow bone and inside/outside corners, this is PERFECT! Not too light, not too white, not too sparkly. After you finish your eyeshadow application it also looks really pretty with just a little pop of this on top of your shadow in the center of your eyelid. Cute little jar and applicator too.

Wonder Wand does Wonders on eyes

I have had a the wonder wand a couple time and Love it. My fav on brighteners/highlighters great for highlighting below and above the brow and in the corner of your eyes cheek bone I even put it on as eyeliner under my eyes at times its the best 8 hrs of sleep LAURA GELLER bring it back I am about out and need more

beautiful finish

You can't really understand how cool this stuff is until you use it. At first it looks really sparkly (in a bad way) but when it sets,you get a perfect sheen that covers up all of yuor problem eye areas. WAYYY better than a cakey raccoon eye concealer any day.
Back
to top