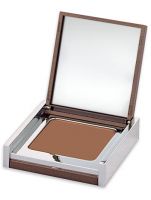 Scott Barnes Illumineye
As low as
Love Scott Barnes

These shadows go on great, last all day, I love the natural colors, great smokey eye. Not thrilled with the packaging,

Splendid for a smokey eye

I ADORE this eyeshadow, though I use only 2 of the colors of the 6 that I own. Let me explain - with 2 of the most perfect neutral options for my skintone (MAC c40, Armani LSF 6.5, MUFE F&B 34 - golden tan color), there isn't much else more for me to wear to look stunning. The 2 neutrals I am referring to are Chocolate and Urban Legend. Chocolate is medium-to-med/dark warm chocolate with golde...read moren-cast shimmer, and Urban Legend is a med/dark-to-dark warm gray. I need use only one of these at a time to achieve the look I want. They are creamy powders that allow me to sheer out or pack on the color, which lets me use only one hue to get a multidimensional look. Smoked in the crease and blended out onto the orbital ridge and in a "V" onto the line at the base of the lashes, and then swiped under the eye - that's all I need. And with liner and mascara, that's it, and it seriously illuminates my medium brown eyes. Really. I love this eyeshadow (even if I don't venture into the colored options).
Back
to top