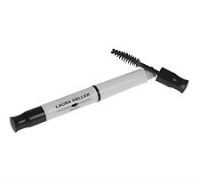 Laura Geller Eyebrow Tint and Grooming Gel
As low as
I struggled with this product... it went everywhere

I went right back to Bare Escentuals brow filler after using this product. Because of the mascara-like consistency, I had a hard time getting the product to go exactly where I wanted it. Each time I used it, I had to clean off areas with a q-tip. The end result did not look natural... it looked like I was wearing brow gel. I will not use this product again.

Great Find

For all of you who have thin or sparce brows, this product is fantastic. It has little fibers that fill in the blanks without looking overly made up. The gel holds all in place until you wash your face. The "blonde" shade is great for blondes or light brown hair. You can make it as light or as dark as you like. Give it a try. You'll like it alot.

I really like this stuff!

I have "clear" blonde sparse eyebrows, and red hair. Most brow pencil colors are too dramatic and fake looking for me. I bought the "blonde" color of this tint, and it is just the right amount of color to add definition, but it is not too much. There are fibers in the tint that add much needed "volume" to my brows. The grooming gel locks in the color, and creates a finished look.