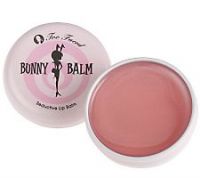 yummy

this balm is soooo yummy. i love the chocolate flavor. it makes your lips satiny smooth. its thick without being sticky and it really moisturizes. you get a lot of product in the tin. only reason i didnt give it a 10 is because i dont enjoy dipping my finger into a pot to get the gloss. other than that its wonderful =)

Love it

I never spend this much money on any type of lip balm or gloss, but I just couldn't resist when I sampled it at Sephora. The great thing is that it comes with quite a bit of balm in the tin and it moisturizes my lips really well, but it isn't goopy and sticky. I bought the watermelon one which smells and tastes great and I think I'm going to buy the grapefruit one next time. It leaves a lovely pin...read morekish tint to my lips and it lasts a while. It goes on smoothly and I love how it adds such a nice color to my lips without a lot of glitter and goop. It isn't tested on animals and the tin it comes in is really cute. I always carry this stuff with me, especially when I'm on a date =)

Girly Grapefruit LOVE

I originally got this as a free sample with an order through Sephora... WOW I feel in love with this balm! Smells divine, nice dewy shimmer, feels like silk on my lips, and it really does do a good job of exfoliating while conditioning my sensitive lips. I know many hate any makeup that you have to touch to apply but this is worth it. I find that if I have it in the heat for just a little to melt it slightly it feels even better and lasts longer.
Back
to top