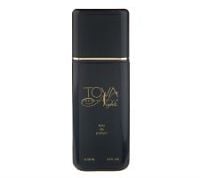 Tova Nights Eau de Parfum Duo
As low as
Sex in a bottle...

TOVA has a way with fragrances! I switch off between this and TOVA, but either way it is my way of announcing to my mate it is time to bungle in the jungle!! This is a sexy unique scent that is what I consider a white fragrance with a powdery tone. It is pricey and only available at QVC

Tova Nights parfum duo

I got this as a gift. I think it is very over priced and I didnt care for the fragrance at all. The only thing it did was last a long time. I had to wash it off to get rid of the smell.

TOVA NIGHTS IS IF YOU WANT YOUR MAN TO PLAY

THIS SCENT IS ROMANTIC,SEXY AND LETS YOUR PARTNER KNOW YOU WANT TO PLAY.MY FIANCE LOVES WHEN I WEAR TOVA AND SHE'S WORTH EVERY CENT YOU PAY FOR IT.NEVER WILL YOU EVER HAVE A SCENT LIKE THIS.BE PREPARED TO HAVE SOME FUN.IT'S GREAT FOR YOU AND YOUR MAN OR A NIGHT ON THE TOWN WHERE YOU WANT PEOPLE TO TURN AND SMELL YOU WHEN YOU WALK BY.NEVER OVERPOWERING JUST GOOD FUN.IF YOUR SASSY AND WANT TO HAVE FUN THEN TRY THIS SCENT ITS SO WORTH IT.
Back
to top