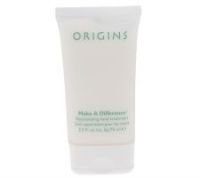 A new favorite

I normally wouldn't spend this much on a hand cream, but I splurged for my birthday. It delivers the perfect amount of moisture without any greasy or sticky residue, and the scent is amazing but not overpowering. I think I might be addicted!

Baby soft hands

recently my dishwasher broke and left me with handwashing dishes which in turn left my hands, especially knuckles extremely dry and almost painful. i bought this hand cream particularly because it was small enough to fit in my purse and when i tried it, the cream left my hands moisturized but not greasy. the scent is a little strong, especially when youve had it on for a while. the rose of jericho...read more is there to provide moisture even after hands are washed which is a plus for me. my favorite thing to do with it now is apply it right before bed and slip on some cotton gloves. my hands are as soft as ever in the morning! i would recommend this product to just about anyone.

headline makes me want to change the way my hands are=to dry

needed a good hand cream to help peeling sore hands. originally hands were softer then age and the elements changed them. I needed something different. This ttem was just what i needed!
Back
to top