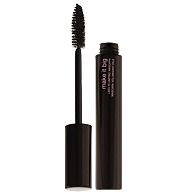 Amazing

I actually LOVE this mascara & keep going back to it again and again! I have sensitive eyes and oily skin and this is really one of the only products that doesn't smudge or burn my eyes & I've used TONS of brands --high end to drugstore. I also use Buxom Lash & think this mascara is comparable, but with a lower price point. This mascara is a sure thing for me! I realy liked this mascara. I wore it...read more for a long time and kept coming back to it. It did a good job on my lashes but it was hard for me to keep them curled (my biggest issue since my lashes are very straight, as mentioned in my other mascara reviews). This was my go to mascara until I tried Estée Lauder's Sumptuous. If you don't have problems curling you lashes like me, go for it. It's cheap and does a very good job at thickening lashes. I am loving this mascara accidentally bought this in espresso which is a black brown color. Never clumps on my eyes and it's buildable. I've recently ordered the raven color which I'll be using for my eyes but the espresso is great on my eyebrows no smudging and my brows look nice all day. I will definitely purchase again. I cannot really understand why everyone is saying this mascara is dry? I find it very moisturizing! However this could just be me. I love this mascara. I find that is multiplies my lashes like crazy!!! I must admit off the hop that I have very intense lashes, but some mascaras really seperate my lashes and don't give them the justice they deserve, this one however does give them justice, it makes my lashes appear lush and full! The formula itself is very soft to the touch, it does not leave my lashes crispy at all, which is fantastic as I am a chronic lash puller when mascara is crispy! The more you apply the more dramatic the looks will appear, and because this is a moisturizing formula you are able to apply again and again. The only negative comment I would make about this mascara is that is it one somewhat hard to take off!!!

Good stuff!

This is really a pretty good mascara! It doesn't smudge or clump. I love the huge brush. The color isn't as glossy or as dark as I'd like, but the length and volume are pretty good.

Good, BUT...

Good mascara, but it dries out quick so I had to buy about 9 in a years time.
Back
to top