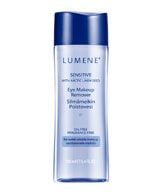 BURNS MY SKIN, STINGS MY EYES!!

I bought this EMR as a sub for my usual brand. It was between the sensitive version and the waterproof version. I DO NOT have sensitive skin, but felt that I might as well get it since my eye make-up is not waterproof. I've used several high-end brands as well as drug store brands and this one is by far the worst. It burns the skin around my eyes, especially under, and if it gets in my eyes it stings like crazy. I've never had this problem with any other product. BEWARE.

Please bring back Gentle Eye Makeup Remover

For all the Lumene fans out there (which I am one) I am very dissapointed that they substituted the "Gentle" eye make up remover with this so called "sensitive" eye make up remover. I have never had one negative thing to say about any of the 10 Lumene products I use. However this ranks as the worst eye makeup remover I have ever used - and it burned my eyes

Good general makeup remover

I found this to be a good general makeup remover. It's gentle and doesn't dry out my skin. It does a good job of throughly removing eyeshadow, mascara (and blush, loose powder etc.), but it's not strong enough to take off eyeliner.
Back
to top