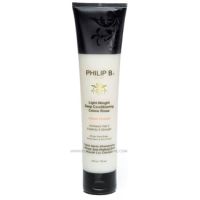 Philip B. Classic Formula Light-Weight Deep Conditioning Creme Rinse
As low as
Relief

Conditioner is effective without leaving excessive slimy residue on my hair. One of the products in a kit to relieve dry itchy scalp that is diagnosed with Seborrheic dermatitis. The kit is very effective. My only concern is price. It is so effective that I am always on a lookout for discounted price or how to get a discount.

Good at first...

I really liked this product at first (don't know if it was the price that had me convinced it was great) but it seemed to leave a build up on my hair - but did not really condition it. I like the Aveda damanged line better --- but Philip B does smell great!

Best for damaged hair

The creme rinse is the best thing for split ends and dry hair from coloring. It looks like a small bottle, but its so rich you just need a dab. Make sure to comb it in and leave it for five minutes or so and you will be amazed at how soft you hair is and how silky it will look.
Back
to top