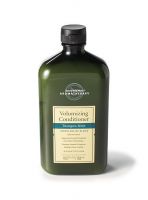 Bath & Body Works Aromatherapy Daily Conditioner Relax - Tranquil Mint
As low as
Migraine/allergy sufferers, consider a sample before buying

I keep going into Bath and Body Works and winding up disappointed. There is *something* that the company uses as a base for seemingly all their fragrances (though some to a greater degree than others) that acts as an allergy/migraine trigger for me. The Tranquil Mint line isn't quite as bad about this as some others in the Aromatherapy line, but it does have that effect, especially if I use it f...read morerequently. It's a shame, because it performs fairly well, but having nice hair is sort of pointless if I'm laid up in a dark room for a day or more.

I love the scent!

I loved this conditioner so much that I stocked up on the shampoo and the conditioner. Not only does it tingle your scalp, but it also makes your whole bathroom smell like a spa. The conditioner leaves your hair feeling very soft, but not heavy. One of the best shampoos/conditioners that I have ever used. Right now I am using CHI and this beats it hands down.

This one is pretty darn good.

I liked theis conditioner a lot. It has a nice invigorating fragrance and and feels good on the the hair and scalp. Had I never used Biolage shampoo's and conditioners I would have probably given the tranquil mint a higher rating. I actually think it deserves some where between a 8-9 but that choice isn't available. It's weakness on my hair is sometimes I need a bit more conditioning power. Alt...read morehough I think it is a great product and would buy it again especially when it goes on sale. Sometimes I like to switch shampoos for a while to increase effectiveness , and this is often my product of choice.
Back
to top