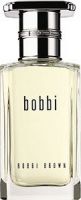 Bobbi Brown Bobbi
As low as
Not in Sync With Bobbi

Although I love Bobbi Brown's Beach, Bobbi just doesn't sing to me. It's a little too earthy for my taste, and it seems like it is not in sync with her line of product. I have smelled and am anxiously awaiting the release of Bobbi Brown Almost There. It is heavenly.

Not for Me

I was surprised at the scent since I really like Bobbi Brown but this really gave me a headache.

Bobbi Brown Bobbi EDP

This is my favourite "fresh" fragrance. I lies somewhere between grassy, herbal and citrus without becoming overly sweet (I hate how fragrances normally get sweet on my skin, but BB's is perfect). This is the perfect dry martini of the fragrance world: sophisticated yet a little earthy in its sexiness, yet still approachable (after all, don't we all know how to *make* a martini, but f...read moreew of us have perfected the art?). I wish Bobbi Brown got more--and better--press for this perfume. It is becoming a genuine signature for me. Leaves a reminder of yourself and intrigues senses, but can hardly be called overwhelming. Perfect for offices and still a fresh and independent fragrance for going out and dancing 'til dawn.
Back
to top