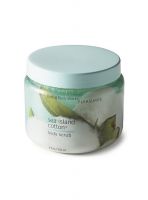 Forgot how good this product is!

How I forgot that this was in my shower, I'll never know. One of the things I really like about this scrub is that it isn't oil based; there is no oil residue left on my skin or in my tub! It polishes well, leaves skin very soft and comes in oodles of different fragrances. The price point is a little high, especially for an item that can be found at a drugstore and work just as well. But if you've got the cash, this is a really nice splurge item.

Orange Sapphire

I tried a few of them in the past, and my latest one was Orange Sapphire. It smelled like blood orange blended with some spices. I loved the scent. It was very fruity, refreshing and a little musky. The tub said "Signature Collection", but it was more like their Aromatherapy Sugar Scrub line. The granules of this particular scrub was sugar based, and they melt away gradually. It gave me some time ...read moreto exfoliate and massage before they were completely gone. It left a light sweet scent on my skin. BBW's body scrub is great, but it does not outperform Origins Ginger Body Scrub Smoothing Body Buffer which smoothens and polishes my skin.

White Citrus & Coconut Lime Verbena

I got 4 scrubs on one of their sales. 2 each. Both scents are marvelous, nongreasy, and very high quality!
Back
to top