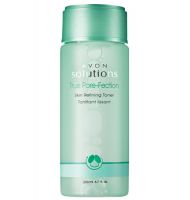 Awsome Product

This is the best product I have found for my face. My pores are amazing.

Not bad at all

With continued use alongside the true pore-fection cleanser, this toner actually works nicely. It sucks all the oil out and make my pores (which are usually quite large) much smaller. Compared to the clean&clear cooling toner (the only other one i've tried) this is better. I think they may have stopped selling this through Avon but on ebay you can find some. I might not be applying it correctly, because it does not always work. Sometimes it irritates my sensitive skin.

Just fine

I have been using this and the cleanser and the mask for almost a month but there hasn't been much change. My skin is normal to oily and it still is. There have been pimples popping up on my forehead and along my hairline but i'm not sure if it's due to stress or the product. However, I like the smell, it's not too strong.
Back
to top