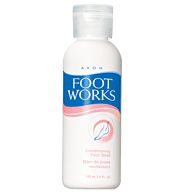 Avon Foot Works Conditioning Foot Soak
As low as
works great

this soak leaves my tired feet feeling refreshed and soothed. and the price is unbeatable.

Avon foot works

The soak is good on tired feet!But great when followed in three steps! 1. Soak for 10-15 min. 2.Use the clenser with microbeads to get the dead skin off. 3.Pat dry and lotion with the foot moisturizer. I dont no if its sold seasonaly,but i bought the berry mint footworks trio,and my feat were refreshed!! For x-mas i got the mocha trio,I like the berry mint the best.The mint leaves your skin feeling tingly!

Nice for the Price

This wasn't anything more special than bubble bath, but it has a nice smell and is inexpensive.
Back
to top