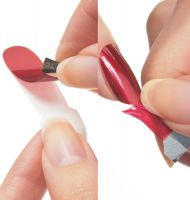 One Size Fits NONE!

I completely wasted a set. I'm generally very good at precisely applying things, but either my nails are a very strange size or Avon's measurements are off. The "thumbs" were too small for mine; the polish meant for small nails were far too large. I tried to work with these, but they buckled. Far too much work; I'll go back to my nail polish bottle!

my nails are too small!

i couldnt fit these on my nails well, and they rippled when i tried to reposition them. i hate it! im going to keep using reg nail polish. nice color choices and the french version is a cool idea, but it doesnt work for me!

Revamped: Avon's nail art design strips

One of the first goodies my rep Karen sent me was Avon's new nail art strips. She knows how obsessed with nail art I am!! The website reads: Easy-on, easy-off nail fashion. Won't smudge or rub off. You had me at "easy." My least favorite thing about nail polish is the work I have to put in to get a decent mani!! Cost: $10 for one mani. First impression: I got the color Hot Pink Bling. Its t...read morehe one the model is wearing on her left side in the picture. The color in real life is less "hot pink" and more "pretty pink." I was pleasantly surprised, honestly, because its a much prettier color than hot pink, and much less seasonal. I think the color is best described as the love child of hot pink and bubblegum pink. My biggest first impression was that the strips are both similar to, and different from the Sally Hansen ones I've used in the past. For one thing, they are actually 3D, the gems are real, they aren't just an image. They didn't have the strong nail polish smell that the Sally ones do, and they were packaged much simpler. With the Sally ones, you have to first break apart the ones you want, then peel off a top layer of plastic, then peel the nail art from the back, then apply. The Avon ones seriously just look like stickers on a sheet, sooo much easier! Application: On the website, they provide a nice how to picture. Now we all know I don't follow directions well. However, in this case, they were really simple, so even I couldn't manage to screw it up. I had experience with the Sally strips, so I was pleasantly surprised by these! Applying these is SO much easier!!!! Its like the difference between 1st grade math (Avon) and college level calc (Sally). For one thing, these did not tear on me once. I tear at least a couple Sally strips every time! If I didn't manage to tear any, I'm going to say they pretty much don't tear. This is probably because they are thicker and stretchier. To get the smoothest application, apply the top against your cuticles and press it down firmly, then gently stretch them just a little bit down across the nail. This point is usually where I'd be tearing the crap out of the Sally strips, but these stretched like a dream! Also, they do not loose sticky when you touch them. I'm like beyond uncoordinated, so me applying these was a mess! I kept touching the bottom of the strips. Miraculously, they lost absolutely no sticky no matter how much I handled them. Actually, on my first couple nails I put the strip on totally crooked and had to peel it off and reposition. They still stuck just fine. Seriously impressive. I thought it would be interesting to time how long it took me from start to finish. I timed the application process on the stopwatch on my phone. Sixteen minutes, no joke!! There's definitely a learning curve, so I'm pretty confident I could do it in under 10 mins next time. I could not be happier with the finished product!! Bottom line: These are the best nail art strips I've ever tried! They were truly easy to apply (not only easy if you're ambidextrous and freakishly coordinated) and they look great! I've been getting tons of compliments (the cashier at Target stopped to ask me about they while I was paying). So far they still look perfect, and its been a week. (And keep in mind I wash my hands like 100 a day and do dishes at least 5 times!!) In one word: LOVE.
Back
to top