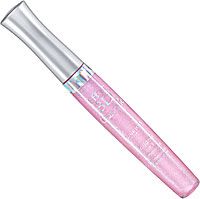 Nice While It Lasts, Which Isn't Long

This lip gloss, while it doesn't give lips a 3D effect, does have nice color and texture. I didn't find it sticky or smeary. The problem is it doesn't last very long. Even without eating or drinking you can only expect to get a good hour of wear out of it. To keep it fresh looking and shiny you have to touch it up often. As far as any major fullness goes you can get that from almost any lip gloss. This one, while nice, doesn't give any of the fullness that is claimed.

No staying power

Bourjois's glosses are made by Chanel, which means you get the same smooth, highly pigmented, shiny gloss you expect from the more high-end brand. Where they've skimped to make the cheaper version is on staying power. The color and shine last less than an hour, which is too bad, because they come in a fun array of colors that look great when you first apply them.

Cosmic or Comic

Cosmic is questionable. This is a average wear gloss with a big price tag. save your money and buy chapstick.
Back
to top