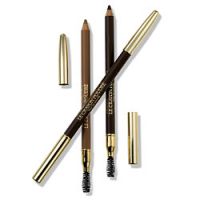 Favorite eyebrow pencil

This is the best eyebrow pencil I've ever tried, and I've tried many. It is a bit expensive, but worth every penny. I was especially pleased with the fact that I put it on everyday and it lasted me approximately ten months. This pencil looks totally natural and is easy to use if you're a beginner. I do not pencil in my eyebrows, just fill in missing areas, and they do not look fake or drawn in...read more whatsoever. I love the little comb/brush thing at the end to give my brows a final brush through when I'm done. Excellent!

best pencil

i have been buying this pencil for years. It is a little pricy, but really well worth it. If you dont like the look of pencil drawn in eyebrows, this is for you. You can pencil it in and it really looks quite natural. The colors they have are really great. The blonde one is really nice on people with blonde hair. Landcome is really a nice line and if you are going to spend money on one product try this one! You wont be sorry!

My favorite brow pencil

This is my favorite brow makeup ever. I used to buy the powder brow makeup, but it came off to easily. I despised the pencil brow makeup that would turn orange after you had it on for a while. This goes on like a pencil so you have more precision, but it has a powdery finish if you soften the makeup on your brows after you apply it with the handy brush on the opposite end. The color stays ...read moreconstant and the makeup stays on all day, even if you get perspiration on your brows. Also, the pencil does not break when you sharpen it like some of the other brands can.