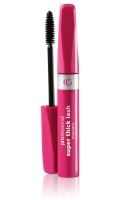 Not the Best, not the worst

I think this mascara is okay. I ordered the wrong one, which is a brown-black color but that is the least of my worry. The formula is thick, the brush helps separate my lashes farily evenly without clumping, which is great, but it doesn't thicken or provide a lot of volume. I use it during the daytime at work because its nothing dramatic. I woudn't wear it at night though. The price is reasonable,...read more and I am a CoverGirl fan so it doesn't give me a negative view of the product or the line. I just won't buy this again because I've used better ones from CoverGirl

Awesome mascara

I love this mascara. It makes my lashes look good. I only wish there was a waterproof version, but I have no complaints!!!

Great at first

At the start, this mascara reminded me of my favorite tarte mascara. It was smooth, applied nicely, not to much product on the wand, and it dried nicely. After a few weeks of use, I noticed it would be tacky later in the day if I touched my eyelashes. It also started to apply more gooily. (not a word, I know). It seemed as it thickened it was more tar like than mascara like. Seeing as I rate masca...read morera's on how they perform from start to finish of a tube, and I couldn't get halfway through this one before I hated it, I would say pass on this. There are better mascaras out there, and some of them are in the same price range.
Back
to top