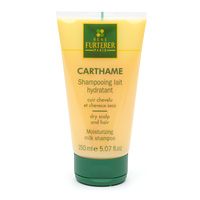 Can't stand the smell and result not so impressive

Ugh! The stench!! It smells like an incense or indian food. Even after rinsing, my hair smelled so horrible - a musky, earthy smell. All day long, I walked around smelling like one of those hippie, incense stores. Since it was so expensive, and being unreturnable, I used it about five more times. However, I saw no improvement in hair texture or shine. Finally, unable to stand the strong stench of...read more incense, it now sits under the sink. It's definately not worth the price...i've used better products at a much lower price!

Makes your hair soft & shiny

I first came across this when I was in France. Thought it was super expensive. However, since I don't like the hassle of using conditioner, this shampoo has worked really well for me. I live in California where it gets really dry. It's expensive, but no other shampoo makes my hair as soft and manageable as this moisturizing shampoo.

Cool and creamy...

Makes your hair silky and shiny...What else can use ask for in a product.
Back
to top