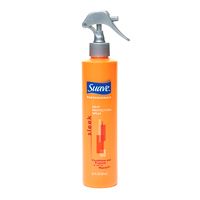 Protects hair from heat damage

It's always good to find something that really delivers what it's supposed to. This protects my hair from heat damage when ironing my hair. However, do not expect the "sleek" result like what it says on the bottle. If you want shine after styling your hair use a shine spray instead. I would definitely buy it again though because for the price it does protect my hair.

this is the best i've ever used

and i've used tons of spray and cremes and gels. this made it super easy to straighten and shiny and smooth. and it held all day up in a hair net and over night--no creases or anything. NOTHING HAS WORKED BETTER FOR ME--no lies.

umm... not on my hair

i have long, fine, thin hair and i sprayed this on the ends but then didn't have time to curl- my ends went hard and super tangly for the rest of the day and it sucked- so what, it's only good and conditioning for my hair if i absolutely use heat? after that i'm afraid to see what it will do if i /do/ use heat!!
Back
to top