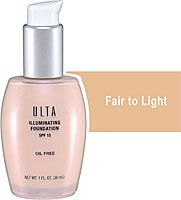 Ulta

If you find it on sale, it's a good deal, but I thought this was a lot greasier than it needed to be, and there's a weird yellowish undertone to it. If you're going on a dinner date or will be in dimmer lighting it looks great, but definitely not for daywear. It also photographs very well...so it's not bad, if used in the right circumstances.

eh....

It smells like frosting...lol really good. But the color has an almost orangish tint, in some lights it looks okay. In others it looks like a reallly bad tan.. It depends on the color. It reminds me of a tinted moisturizer or a bronzing tinted moisturizer. I would maybe repurchase...Very controversial product

Review: Ulta Illuminating Foundation SPF 15

I have to agree with the other reviewer and say it almost feels like you have nothing on your face. It is ok product quality. It lives up to its claims. It doesn't last all day though. Also the pump stopped working when I was about halfway through the bottle.