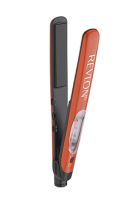 Follow Directions Carefully

This works best on slightly damp hair, so you will still need to do a bit of blow drying. It takes a little getting used to. I burned my hand on the steam a few times, so just be careful. Also, using product can clog up the vents. It does leave hair soft, silky, and straight. The straightening effect does also work better than some other straighteners in the same price range.

Review subject

Well i used to have this flat iron about 4 years ago and i used to love it! my hair is very thin but this one never burned it or dryed it my hair look beautiful! and i never even needed to used and heat protecting spays because it NEVER burned my hair, then it broke cuz i dropped it too many times and it stopped working :( the only thing i didnt like was that it took me 2 hours to do my hair becau...read morese even though my hair is thin i have alot and its always above my butt. when it broke i thought ill buy ''a better one'' never happened after that one i have onwed 4 other flat irons and they all fryed my hair :/ the one i have now is from Royale doesnt burn my hair alot but its a 1'' so i take long to do my hair with it. now i have to use all sorts of heat protectors on my hair.

Damaged Hair

I bought one of these at Target a few years ago. I paid like 30 dollars for it. But let me tell you, you get what you pay for. This straighter only led to fried ends and damaged hair for me. It didn't even really straighten my hair all the well either. It never gets my wavy hair pin straight it just makes it straighter than usual with a little wave to it. I think I'll stick to my paul mitchell sup...read moreer skiny serum and my blow dryer for straighter hair with less damage. I probably will eventually break down and buy one of those nice ceramic ones since I hear they cause less damage to your hair and heat more evenly.