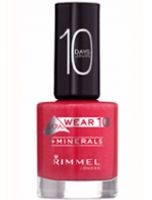 Rimmel Lycra Wear Polish

I own more than my fair share of this Rimmel line, but not a single color has disappointed. They wear REALLY well, especially if you use a good top coat over it. They're all inexpensive, but are right up there in terms of quality.

Really great polish

I love this polish. With typical application (2 coats between a bottom and top coat) it lasts for about a week. If I remember to put on another top coat every few days, I can extend it to the 10 promised days without any chips. I do a lot of typing and was surprised that got as good of wear as I did. It also doesn't stain my nails or cuticles, even the dark colors. I have the dark purple shade...read more, and after two coats the color was solid and no streaks - just pure, deep color. Love it!! The only drawback is the limited color palette.

Adore it

I got this in Russet Flame and it is absolutely gorgeous! It's so sparkly and shimmery but not an overload of it. I'm not one to wear dark colors but this is an awsome color. It stays on long and it's definetly affordable.
Back
to top