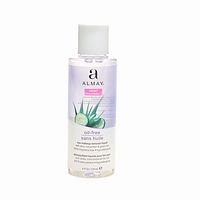 Trash

I don't understand some of the review listed here for this product. It stings my eyes and it takes 3 cotton balls full of this eye makeup remover to remove simple washable mascara, Loreal's Voluminous to be exact. Trust me, it's not good. Buy something else like Neutrogena or Mary's Kays eye makeup remover

Are we sure it's discontinued....

TotalBeauty states that this is discontinued but I still see them selling it on Ulta and other drugstores. Is it even the same product? Anyways, I bought this and had to return it immediately. It didn't even remove anything for me. And it's not even my waterproof makeup I'm talking about. It's just like putting grease around my eyes and it stung. After I use this and I go to wash my face, my eyeli...read morener and mascara was all over my eyes. This is how I can tell how little of my eye makeup this removed. This is my second Almay product I've tried and I'm not impressed by both products so far. Might try something else until it's a hit from Almay but at this point, Almay's not really a brand I would reach for.

Easy Makeup Remover

I really love this eye makeup remover because it doesn't irritate my eyes or dry out my skin. It only takes a little swipe and this instantly cleans my eyes of makeup like eye shadow and mascara without smearing. This is a gentle formula that is great because it doesn't feel oily and keeps my eye area clear.
Back
to top