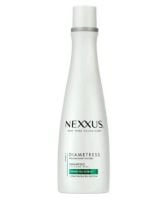 Great!

Really works! Leaves my hair looking thicker and fuller.

THIN H - A - I - R ?? I got it !!!

I got thin hair and I abor it. It is true that with age it gets thinner and thinner - that is NO old wives tail. This Nexxus is the cats M-E-O-W for thinning hair, it actually works and this isn't false advertisement. You can feel it, you can see it. I rotate between Nexxus and Kai Shampoo which also love.

Madge UK

I have very baby fine hair that began thinning as I got older. I've tried every shampoo I could find that said the word "volumizing" and bought them. Needless to say, not one of those products stood up to their word. I had been using Shielo's Volume Flexible Hair spray for quite some time and then I'd use a hair pick to 'lift' areas so my hair appeared to be fuller. The scent was just wonderful an...read mored it washed out with little effort. After blow drying and styling my hair, it did appear thicker and fuller as if I had more hair. I used the Shielo Volume Shampoo as well, and it took about 3 washings for the results to show. My hair took to the curling iron set on low with less time and I achieved better loose curls that lasted longer. It must have been pretty obvious as I was getting comments such as "did you get extensions in your hair?". I just said "no, I got smart and got Shielo"
Back
to top