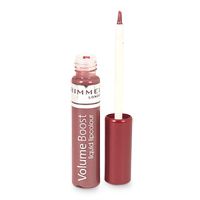 I have this in "Tempt," but it's not tempting at all.

Bought this because it was on clearance at Ulta. The color "Tempt" is a very, very sheer pink with iridescence. PROS: This product is very inexpensive, even when full priced. I love the brush applicator--nice and smooth. This gloss is slightly tingly and plumps lips just a bit, without being uncomfortable. CONS: There is very little pigmentation. It has an awful plasticky cheap smell and taste. I will not be purchasing this product again.

my go-to lipgloss

At first I was kind of skeptical and a little discouraged about the brush and consistency, it looked a bit sticky, BUT when I put it on, my lips really did look fuller, smoother, softer, and the gloss wasn't sticky at all! The pigment is just right, it's not too opaque and can be worn over lipstick or lipliner without looking pasty. There's plenty of colors for any skin tone (I have an olive skin tone and use SEDUCE) and can be worn for a clean day or a glamorous night look.

yummy

I really liked this gloss it gave my lips a really pretty shine. It gave it some some bit of plumping, not to intense which is good so u wont look like you have fish lips. Like most lip plumping they really sting but this one dose not. It also has a wide variety of colors so you can make it match with any skin color.
Back
to top