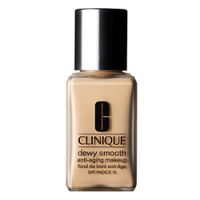 Clinique

Nice, smooth coverage. Lasts for about 5 hrs for me, before a touch-up is needed.

Incredible

After all these years of searching for the perfect foundation, Clinique Dewy Smooth Anti-Aging Makeup is IT!! Absolutely perfect! My search for magic makeup has ended with Dewy Smooth!

Dewy Anti Aging Makeup-It's Discontinued!!

OMG!! Well they did it. Clinique discontinued this amazing product so I quickly hit the fine dept. stores and snatched up the remaining bottles of Dewy and then ordered 10 bottles online-all in my shade New Ivory. Clinique was helpful as they gave me amphone number to call GONE BUT NOT FORGOTTEN, a division that locates products that have been discontinued & I got 6 more bottles. The makeup is goo...read mored for 30 years if you don't open it and keep it in a low light area soI should be set for many years. While my pocketbook suffered a bit, I'm happy with my stockpile. The things we girls will go thru when we find the right product!