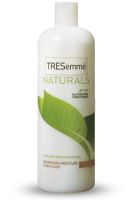 Beautiful, silky, smooth hair!

After washing my hair with the Tresemme Nourishing Moisture shampoo with aloe vera and avocado that has lower sulfates, I went ahead to use this silicon free conditioner. One that I noticed was that USDA certified organic aloe vera and avocado extracts in this nourishing moisture conditioner! Another thing I noticed was the fact that this new formula has silicon free formula for lightweight condit...read moreioning that infuses the hair for noticeably more manageable and smooth hair, which also helps to protect my hair from damage and breakage. After applying a liberal amount of the conditioner to my wet hair and massaging in into my scalp for a rich lather. I let it stay in for about 3 minutes before rinsing it out thoroughly. I've always valued Tresemme hair products as one of best qualities whether or not it's actually used by professionals (although I have been to salons that do indeed use Tresemme products). I felt this conditioner smelled great just like the shampoo, and it did leave my hair feeling nice and silky smooth, although I wouldn't say completely tangle-free so minus a star for that. My hair definitely feels healthy, soft and not dried out, but I wouldn't quite say that it's exactly vibrant either. I'm not sure how I would able to test if my hair is ten times stronger after just one use, but I suppose I'd take their word for it! I do definitely love that it's silicone free, no dyes, and hypoallergenic, and even safe for color treated hair. Although the last one is not much of a concern for me, but will keep it in mind for future reference, when I do dye my hair and need a conditioner that would be safe for my dyed hair. Overall, I think it's quite an affordable conditioner that is definitely worth trying out!

Disapointing

I was excited to try thsi product because I'm a huge fan of natural products. I was very disapointed. This shampoo actually dried out my hair and was almost impossible to wash out. Will not repurchase.

SILKY

I have spent way to much on overrated and over priced conditioners. When at Target I was looking for something that was a cheap fix I saw the word Natural for Tresseme and that it was under 5 bucks so I gave it a chance. I have very dry coarse hair which is why I always took salon recommendations. Nothing has worked better than this conditioner ever. I have gotten Moroccan Treatments but this did the trick. Worth it, love it, my hair is so silky and soft. This product better not go away.
Back
to top