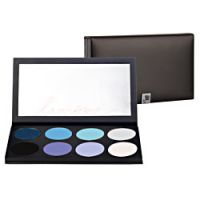 Lancome Color Design Artist Palette
As low as
Nice application, smooth, long-wearing

This eyeshadow palette from Lancome really packs a punch. The range of warm colors (this is the Couture Warms collection) are saturated and cover a range of wearable colors. The shadows wear *incredibly* well- no creasing or smudging and very little fall-out, even with the intense shades! The case is great too. Shiny black patent type with padding and a magnetic closure. It feels high-class and I...read more like the padding for travel or carrying along in your purse. * Strut is a gorgeous deep green perfect for brown or hazel eyes, it's one of Lancome's "intense" shades. * Couture is matte berry brown great for contouring or lining eyes. Also an "intense" shade. * Designer works well with Strut as it is an olive (think camo or khaki) green with metallic shimmer. * Model is very unique copper shimmer. I love, love this shadow!! * Pose is a golden copper metallic. This shadow goes on strong or light depending on your brush. Love it alone or blended for an entire look. * Vue is my second favorite in the palette. It's a pink toned neutral shadow with slight shimmer. It's a perfect base for a "no-makeup" look or as a primer under your other shadows. * Positive is a matte cream. Beautiful under the brow as a highlighter and in the corners of eyes (by your nose bridge) to brighten. * Daylight is an absolute matte white. I really like using this for a brow bone highlighter. You can choose from the Couture Warms (which I reviewed), Stylish Neutrals (browns and mauves), or Best Dressed Cools (range of blues and grays).

Doesn't Run in Crease

I find this shadow long lasting - and it doesn't gather in the crease, which I've had happen with similar shadows. The other palettes (not shown here), are nice for everyday wear.
Back
to top