Makeup Tricks For Looking Au Natural Even When You're Not
Posted on December 1, 2009, 6:02 AM
For those who don't like to wear dramatic makeup but still like to add a little bit of emphasis, you're in luck; the au-natural look was everywhere at fashion shows this year and Elle Magazine is offering some helpful beauty tips that aren't too fuss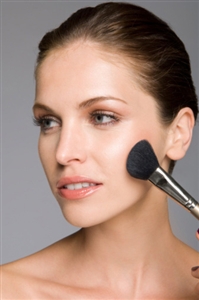 Apply light blush for a natural look
Beginning with your whole face, for those who need to wear a foundation, try a powder compact and use it sparingly. Cream foundations can often look cakey and can often cause breakouts. When applying the foundation, only use a little on the brush and blend it together on the rest of your face.
To accent your cheekbones, add a soft blush to the apples of your cheeks. Make sure the shade is only one or two shades darker than your natural skin color when flushed.
Instead of the normal black liner, opt for a soft brown on the inside of your eyelids. Use a light brown or bronze shade as a shadow and blend out towards the brow. For a more natural look, try brown mascara as opposed to black, as it will still display your lashes without the harsh look.