Will Fall's Makeup Trends Be Inspired by "Avatar"?
Posted on March 4, 2010, 3:35 PM
Life is doubtlessly imitating art in the case of some upcoming makeup trends.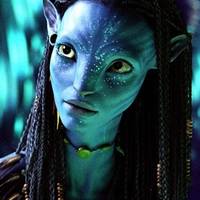 "Avatar" inspires new makeup trends.
According to "The New York Times" style section today, designers such as Jean Paul Gaultier and Rudolph Valentino have been inspired by the colorful and vibrant aliens that populated James Cameron's blockbuster "Avatar."
The news source reports that even a 10-page fashion spread in "Vogue," which featured languid beauties sporting tribal-inspired
tattoos
, seemed to be inspired by the naturalistic and color-saturated epic.
On the runways, designers recently revealed bright designs that seem more like enticing plumage than functional fashion, and the models' have been sporting bold eye shadows and
hairstyles
that were inspired by the revolutionary film.
Ladies who like to stay one step ahead of
makeup trends
may decide to emulate the look themselves the next time they have a fancy fete to attend.
What do you think, would you try out makeup trends inspired by science-fiction films like "Avatar," or are you going to try for a sweet and simple look for the upcoming seasons?