Detroit's Best Place to Buy and Play with Makeup
Posted on June 28, 2010, 9:08 AM
A hidden gem in Birmingham, Michigan takes makeup to a whole new level for Detroit residents.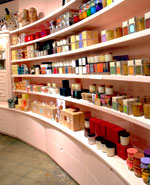 Detroit's Best Place to Buy and Play with Makeup
Sure, the Detroit area receives winning praise for its automobile manufacturing skills, and central, Midwestern location on the map (not to mention a few major universities to boot), but for
health & beauty
and
makeup
? – well, not so much. Enter Todd's Room, a tiny slice of surreal beauty heaven, where blush, eyeshadow and lipstick are plentiful, and skilled artists are quick-at-hand to help dust, smudge, sponge and rouge your complexion. It's a comfy, cozy, chic boutique to peruse, whether you're on the prowl for a new shade of lip liner or need some real-deal dolling up for your Big Day. Todd's Room is the place to be when makeup (and waxing) is on the mind.
Todd's tale: Todd Skog, the owner and founder of Todd's Room is a low-key guy who has one passion: to make you pretty. He's great with makeup (licensed and certified) – and produces amazing arches (think eyebrows) as well. Todd's been in the biz for more than a decade (but he's young and very approachable, too); he and his staff do every A-list celebrity that visits the metro area, whether for business (shooting movies or fashion spreads) or pleasure. And his storefront, which is very downtown cool-meets girly girl, is perfectly located in the heart of Birmingham's main shopping district, so it's a fun place to people watch and prettify on the quick between window hopping and café bopping. Todd's crew of experts created a mass following, from high school girls to GG's (gorgeous grandmas) to 20, 30, 40 and 50-somethings in between.
Services to sign on for: Makeup application, you bet. Brow artistry, indeed. Body waxing, a winning pick. If you're looking for wedding-day makeup, one of Todd's team is the obvious way to go; you can even bring your entire wedding party into the space for personal, specialized day-of makeup (Todd's Room employs a wedding planner to help make the process even simpler for you and your own team of maids). Family reunion coming right up? Visit Todd's Room for a natural, realistic makeover. Bonus: Todd carries beauty loot to love. From skincare to makeup, accessories to jewels, you can shop to your heart's cosmetic content pre and post beautifying.
How to find it: Birmingham is just a quick trip from downtown Detroit and worth every second if shopping, eating and strolling is on your radar. Visit this new-wave beauty apothecary at 239 Pierce Street; call 248-594-0003 or email toddsroom@yahoo.com for an appointment or for more information. Todd's Room is closed on Monday, but open Tuesday through Saturday for pop-ins or appointments, and on Sunday for appointments only.