Paula Abdul has a New Show and a New Natural Makeup Look!
Posted on May 24, 2010, 6:05 AM
Everyone's favorite wack-a-doodle is heading back to "Idol" (for a night" and to CBS (for her own show.) And, if recent photo ops are any indication, she's going to look fabulous doing it -- here's why...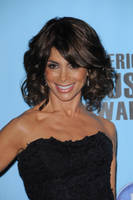 Paula Abdul has a New Show and a New Natural Makeup Look!
With the entertainment world abuzz about last night's "Lost" finale (it was either awesome or lame depending on whom you ask), the "Celebrity Apprentice" ender (did The Donald have the heart to diss Brett Michaels?) and the prospect that Lindsay Lohan may wind up in the clink (if she actually shows up to face the judge today), the big Paula Abdul news may very well receive little-to-middling coverage.
So what's up with everyone's favorite wacky ex-cheerleader/popstar/arbiter of amateur singers?
With Wednesday's finale of "American Idol," fast-approaching, Fox has announced that Paula, along with Christina Aguilera and several other surprise stars/former contestants, will be on hand to help crown the winner (fist pump for Lee) and bid a solemn, teary adieu to Simon Cowell, who as he told Oprah last week was just too bored with "Idol" to keep at it. "[At] the end of the day, the audience doesn't tune in to watch me being bored," he said before her live studio audience, "They deserve more than that. But I can't hide it when I'm bored. I just can't fake it.'"
Simon may be moving on to make gazillions more on his new show 'X Factor,' but, proving that she's "Forever Our Girl," Paula, who's been keeping a relatively low profile since Ellen Degeneres sidled into her judge's chair earlier this year, made a rare public appearance at last month's TV Land Awards looking beautifully put together for the second time in a row! (The first was at last winter's American Music Awards, see the picture above.)
Wearing a short black cocktail dress, with her hair in a sleek, side-swept style, Paula's makeup was at once flattering and understated. Gone were some of the more harsh hues of yesteryear, replaced with a subtle sheer pink lip and a sophisticated slate gray-charcoal smoky eye.
Whether Paula will continue to hone this chic, flattering makeup palette as the head judge (and executive producer) of CBS' new offering, "Got to Dance," remains to be seen. The eye network is expected to make the announcement heralding Paula's return to the reality fray as early as today but, then again, her fans have been teased with this type of news before (neither ABC's new "Star Search" or NBC's Bollywood dance show come to fruition) so until we get the goods from CBS head honcho, Les Moonves, himself, we'll have to take it with a grain of salt instead of, um, straight up.