Lash Tinting Across the USA
Posted on August 23, 2010, 6:15 AM
Best places to tint your lashes from New York to LA, Chicago to Scottsdale (and in between)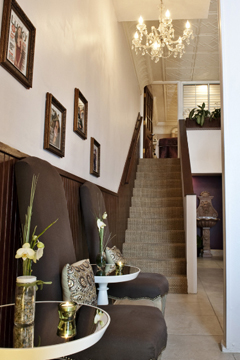 Petite Spa in Santa Monica
Tinting is a tempting topic. After all, every girl vies for an opportunity to tweak her look, spice things up a little. Good news is, with eyelash tinting, you can spend a tiny bit of change to get a major payoff. Although lash tinting won't change your overall look drastically, it will change your lifestyle and makeup routine majorly. What gives? Basically, the process of lash tinting goes as such: a skilled aesthetician dyes your lashes to make them look darker; it's a painless process that takes less than 20 minutes (every four to six weeks), and as a result shaves at least 10 minutes off your morning regime. Your eyes always look "done" – so it's a super thing if natural is more your knack, you love going to the beach or working out without worrying about makeup, and if you're sensitive to eye makeup (think: contact lens wearers). Interested peaked? Find a place in your hood to please your tinting fancy. Here, a few favorites:
The Lash Lounge in Texas is no joke: this boutique-type salon does one thing – lashes – and with a specialization like that, you can't go wrong with a tint job. For $25, clients get customized, dyed lashes to suit their skin tone and hair color. Owner and founder, Anna Phillips, personally trains every aesthetician, so the outcome has her personal seal of approval. Visit one of the three Dallas-metro locations.
Benefit Boutique on Armitage sets the gold standard for all things beauty in the Windy City, seriously. We entered for an experience for our brows, exited with tinted lashes that looked so good and natural, friends asked what looked "different" (which is a good thing, of course). Every aesthetician aces the process, taking time and skill to make the end result fiercely fabulous and freakishly flirty – sans any makeup or maintenance. We love the way Chicago does lashes!
Shizuka New York Day Spa is a serene, peaceful, zen zone dedicated to grooming, pampering and TLC (to me). Why we love it for from
skin care
, worship it for lash enhancements, ala tinting. The Japanese-influenced atmosphere exudes warmth and ease, and we enjoy the environment – whether for a 15-minute lash tint or two-hour massage and more.
Beautifeye is celebrated in the Scottsdale area for all the right reasons: threading, extensions and tinting – brows and lashes is the business they brag about (and customers crave the attention they receive at this all-about-eyes boutique). Though it began as a "threading" salon, tinting comes in close second for what clients command. The process is quick and painless with major payoff – and not a large pricetag ($15).
Petite Spa in Santa Monica is a relaxing retreat, where sincerity and standout service come first -- free chocolates and tea to guests a close second (um, yum). The spa offers a variety of services, but top on the list is lash tinting; the outcome is no mascara for weeks, woila gorgeous from AM to PM. The space itself is quaint and comfy, unpretentious and, well, petite.